[rev_slider_vc alias="vibrachoc-home"]
Vibration and noise isolation systems

VIBRACHOC provides sale representatives and distributors in Spain in order to offer personalized attention and the best solution within the following sectors: Industry, Construction, Rail, Navy, Defense and Aeronautics.
A constant stock is maintained to approach the immediate availability of the product to any part of the country.
VIBRACHOC has a wide range of products and, in turn, it offers the following catalogues: Metal Mountings, Flexible Mountings, Flexible Bushes, Flexible Couplings and Dynamic Sealing.


Vibrachoc was founded in 1953 and it has been set in Spain since 1973. VIBRACHOC-PAULSTRA has its central offices in Madrid where, in turn, part of the production is made.
VIBRACHOC has been part of HUTCHINSON Company since 1994. HUTCHINSON, the world-wide leader in the production of tire, belongs to Total Company.
The association between Vibrachoc and Paulstra within the same company makes possible that the industrial technical and commercial potentials of both join together so the individual capacity reinforces in order to contribute to excellent technical solutions such elastomer, metal cushion, shock absorber, composite.
The head office is set in France and production centers are set in Lisses and Ètrépagny (I+D) and head offices are set in Paris (Levallois).
This association places VIBRACHOC-PAULSTRA in an undisputed situation and it is a leader within the field of anti-vibration and acoustic with a distribution network of more than 500 point of sale and more than 50 agents distributed worldwide.
PAULSTRA has affiliates in Germany, United Kingdom and EEUU.
PRODUCTS
We have the most extensive range of products
to provide an optimal solution in the fields of antivibration and acoustics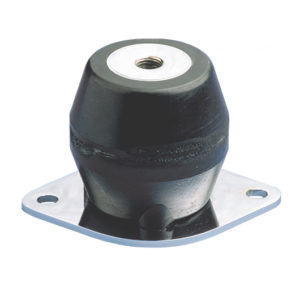 Evidgom®
The EVIDGOM® support can be assimilated to two thick conical membranes.
The EVIDGOM mounting is formed from two thick conical membranes, joined at their bases to create a highly elastic mounting.
There are three variations:
– All rubber EVIDGOM.
– EVIDGOM with bonded fixing.
– EVIDGOM with a diamond or square mounting plate (fixing plate supplied as a separate kit).
APPLICATIONS
We have the best technical solutions
to cover all the needs in the sectors:
Industry, Construction, Rail, Navy, Defense and Aeronautics.
NEWS
In our news section we will keep you informed about
the latest releases and news from VIBRACHOC-PAULSTRA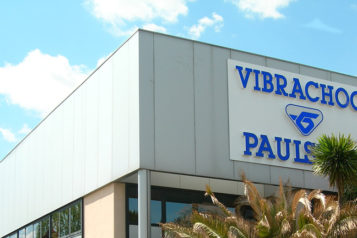 VIBRACHOC S.A se funda en el año 1953 y se implanta en España desde 1973 como parte del Grupo Alstom.
VIBRACHOC-PAULSTRA tiene en Madrid sus oficinas centrales en España, donde a su vez, se fabrica una parte de la producción.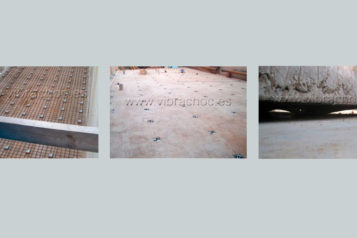 Tradicionalmente la realización de suelos flotantes y losas antivibratorias con el fin de eliminar vibraciones y ruidos estructurales, han estado sujetas a criterios de desarrollo mediante el uso de fibras minerales, pads elastoméricos, compuestos de corcho, etc.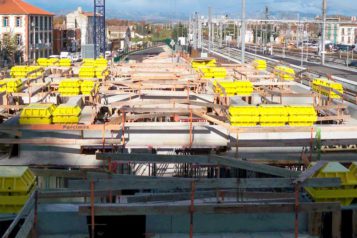 Proyecto de Suspensión Antivibratoria y Antisísmica del edificio de un Hotel en la nueva estación del TGV en Perpignan de Vibrachoc.